0161 425 2323
07782 277 251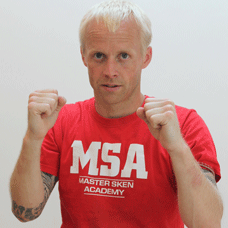 Senior instructor Kru Simon Green
Kru Simon is the senior instructor and director of MSA Stockport. He has trained in Muay Thai for 14 years, has gained experience in competition and is a qualified MTQ instructor, grading assessor and corner-man under Grand Master Sken.

Kru Simon has extensive knowledge in Muay Thai and is well versed in teaching all age groups, abilities and genders. His exceptional teaching methods brings the best out of his students, leading them to be the best that they can be.

Kru Simon trains on a regular basis with his teacher and mentor Grand Master Sken. This ensures he maintains excellent standards and continues to learn in both Muay Thai and life.
Kru Steven Peel
Kru Steven has a great training regime at MSA Stockport, training at least 4 times a week alongside many private sessions with Grand Master Sken.

After attending the grading and achieving his Brown 111, Kru Steven decided he wanted to pursue a future career in Muay Thai helping to teach others.

He enrolled on to the MTQ Instructor Coures Level 2 consisting of 30 hours of intensive training with Grand Master Sken, concentrating specifically on how to teach basic levels of Muay Thai - he passed the course with flying colours.

Kru Niall Brown - Assistant instructor
Kru Niall is one of our active fighters and current Golden Belt North West Title holder. He has outstanding technical ability and has an in-depth knowledge in Muay Thai. Kru Niall's exceptional teaching methods will ensure that you excel in your training goals.